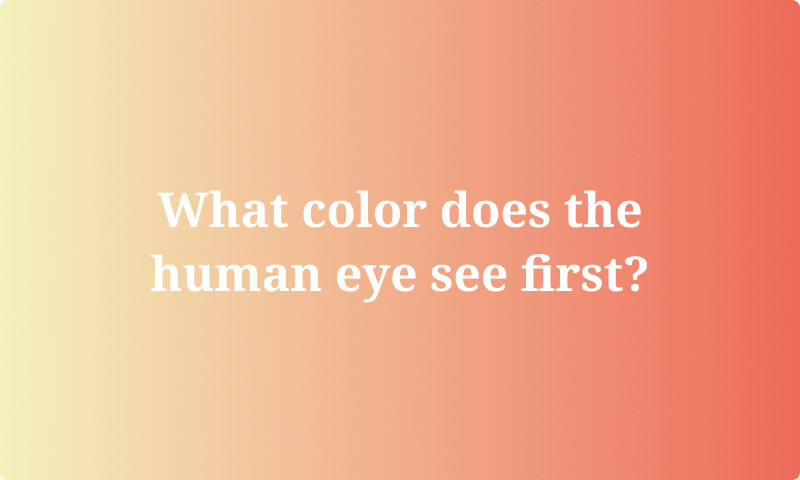 To answer this question, we're going to discuss the different factors at play, such as contrast, saturation, and the theory behind the color spectrum. But first, here's the short answer.
What color does the human eye see first?
In many cases, the human eye sees yellow and bright variations of green first. This is because these colors are in the middle of the color spectrum, which means that our eyes are very sensitive to these colors.
There are other factors at play as well. We're going to discuss these factors next.
Contrast
Contrast is one of the most important factors to consider when determining what color our eyes see first. In color theory, contrasting colors are opposites on the color wheel. They stand out.
Imagine a green pasture with a lot of green flowers and one red flower. That red flower stands out because of its contrast to the green pasture.
This is one of the reasons our eyes see yellow first in many cases. Nature consists mainly of blue and green colors. In contrast, yellow stands out a lot.
Saturation
Up next, we have saturation. It is another important factor at play in how our eyes see color. Highly saturated colors, like neon lights and billboards, grab our attention. Just look at Times Square and all the advertising that's going on there. These colors stand out!
Yellow is a primary color and is highly saturated by itself. Another reason why yellow is one of the colors the human eye sees first.
How our eyes work
Our eyes consist of many different elements, but the one I want to highlight is the cones in our eyes. These are sensitive to light and help us see color. We have three types of cones: one for red, blue, and green. These cones are most sensitive to the color they're associated with.
As you might have noticed, there's no cone for yellow. Instead, our eyes have to activate the red and green cones to see yellow. That's two cones instead of one. And therefore, our eyes are more sensitive to yellow.
Summary
The human eye's likely to see yellow or a very bright green first. That's because of several reasons.
Yellow is a very contrasting color compared to the more common blue and green we see in nature.

It is also a highly saturated color by itself. Bright, saturated colors stand out.

Our eyes need two out of three of its cones to process yellow. Compared to single-cone colors, this makes yellow stand out.
One thing to remember, though, is that while these are the most essential factors, more things are at play here. For example, object materials, the state of someone's eyes, and many smaller factors also can influence what color you see first.